SwIPe™ for Windows
A standard payment gateway feature from Planetauthorize™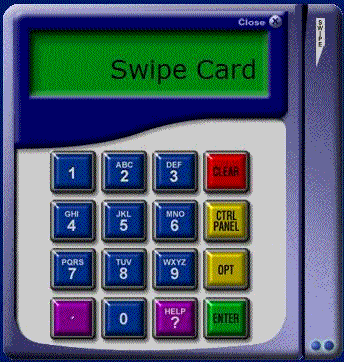 RetailPayments VPOS SwIPe™ is a flexible and feature rich point-of-sale terminal for retail and restaurant merchants. RetailPayments VPOS SwIPe™ provides merchants with the ability to accept and capture all major credit card transactions as a "swipe" transaction using any laptop or personal computer with an Internet connection and encrypted card reader.
Multi-Currency Support
RetailPayments VPOS SwIPe™ can process credit card payments in your local currency. Planetauthorize.Net payment gateway supports 85 Currencies so your customers can pay in the currency they know.
No Hardware or Expensive Equipment Required!
RetailPayments VPOS SwIPe™ enables merchants to process card-present transactions utilizing their personal computer and Internet connection. This lightweight point-of-sale application was designed to work with Microsoft Windows® based systems.
Process encrypted credit card transactions with Merchant Defender. SaleManager offers an EMV Card Reader for processing chip card payment transactions. Take a look at our RetailPayments VPOS SwIPe Brochure.

Free Retail Swipe Application
The RetailPayments VPOS SwIPe™ solution uses the storage and reporting features of the payment gateway. Its supported hardware includes security features of next generation end-to-end encrypted card readers with optional signature capture. Merchants using SwIPe and its supported hardware have instant record retrieval capabilities. Receipts with signatures are stored in the gateway and can be emailed to the merchants' customers directly.




Swipe (card present) transactions are the most cost efficient transaction type since the merchant has the ability to swipe the customer's credit card in real-time. All payments are processed using the merchant's low cost (Cable Modem or DSL) Internet connection.




RetailPayments VPOS SwIPe is a software product from Planetauthorize for merchants who utilize the top rated Planetuthorize real-time payment gateway service.




To get started with the Planetauthorize Payment Gateway service Contact Us or call SaleManager, toll free, at 1-800-918-4890.
Planetauthorize Solutions